In the course of my career as an EE specializing in Ultra Wideband radio, radar, and antenna hardware, the need often arises for a useful and easy to reproduce UWB antenna.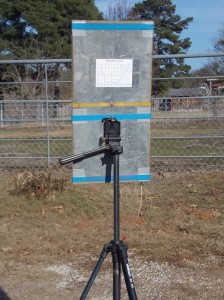 This antenna  has been a work-horse, has a bandwidth of roughly 200 MHz, and operates efficiently from 200 MHz to a bit over 400 MHz.  In addition (although not formally measured) phase linearity is good and there is virtually no ringing in the time domain.
SWR is low, below 1.5:1, and the radiation pattern is roughly that of a simple dipole over the entire frequency range.
This antenna is as simple as it appears, simply 2 squares with a 1/2 inch gap, and with an SMA feed in the center.  The feedline coax is choked to mitigate common-mode coax shield currents with type 61 ferrite snap-ons.  The squares are 10 3/4 inches on a side, making the sizing equation:
squares:      L(in) = 2150  / fLow (MHz)  per  square
gap:      D(in) = 100 / fLow (MHz)
EZNEC MODEL OF A 120 – 240 MHz VERSION
The size of the plates for this modeling exercise are 18 inches x 18 inches, with a 5/8 inch gap.
Using EZNec for analysis of a vertical wire frame structure, we get the following gains at 0 degrees elevation, and both broadside and edge-wise at the lower and upper frequencies of the design:
Note that gains are within 2.5 dB of each other.  Also note that the model tested a bit high on the "average gain" EZNec test, so the absolute modeled values of gain shown above are suspect and are probably a bit high as well.
This is the modeled SWR curve, and is a decent match for the measured SWR curve shown for the real antenna above: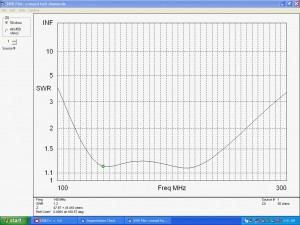 Note that the units above that I have used for years are thin single-sided copper-clad pc board attached to a thin Plexiglas sheet for a little extra strength.  As such you may find that the design equations produce an antenna with frequencies that are a bit different when using different or no substrate material(s).
Feel free to use this design information for non-commercial use.
Dave Benzel – KD6RF – 2016 Dec 27
4,295 total views, 5 views today
Please follow and like us: